[Amazon.co.uk] GoPro HERO Session TM Bonus Bundle Action Camera - Black [24% sparen]
Hallo Leute,
wieder ein Super Deal bei Amazon.co.uk:
GoPro HERO Session TM Bonus Bundle Action Camera - Black


Man benötigt auf jeden Fall eine Kreditkarte und wie schon öfters auf preisjaeger erwehnt, eher den Währungsrechner der Bank und nicht diesen von Amazon verwenden
‌


High-resolution of 1440 pixels per inch delivers sharp, professional video. Frame rates up to 100 frames per second create smooth slow-motion playback.
Capture 8MP photos or set time lapse at intervals of 0.5 to 60 seconds and shoot a burst of up to 10 frames per second.
Convenient, simple and small, HERO Session is a perfect grab-and-go GoPro for any adventure.
Durable by design, HERO Session is waterproof to 10 m (33 ft) without a housing.
HERO Session Camera• The Handler (Floating Hand Grip)• 16GB microSD Card• Standard Frame• Curved + Flat Adhesive Mounts• Mounting Buckle• Additional Mounting Hardware + Micro-USB Cable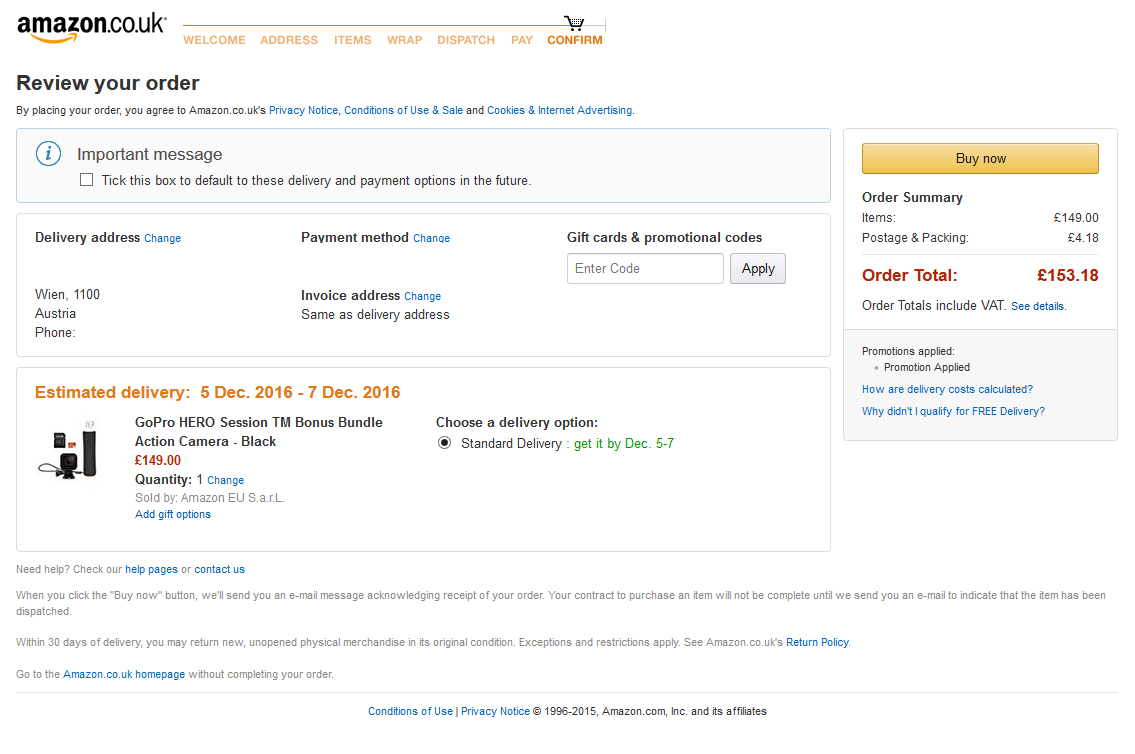 GoPro HERO Session (CHDHS-102):
199 €
SanDisk Extreme microSDHC 16GB Kit 90MB/s, UHS-I U3/Class 10 (SDSQXNE-016G-GN6MA):
9,90 €
GoPro AFHGM-001 The Handler schwimmender Handgriff:
25,99 €
Es steht da noch was dabei ist, da es aber nicht auf dem Foto ist gebe ich das nicht dazu.
Also 199 + 9,90 + 25,99 = 234,89 €
Man spart ca 24%