eingestellt am 18. Jul 2017
Guten Morgen
aktuell bekommt Ihr iPassSafe kostenlos im AppStore.
Es wird iOS 8.0 und 31 MB freier Speicher benötigt.
Die App wird regelmäßig aktualisiert und die Bewertungen liegen bei 4,5 von 5 Sternen.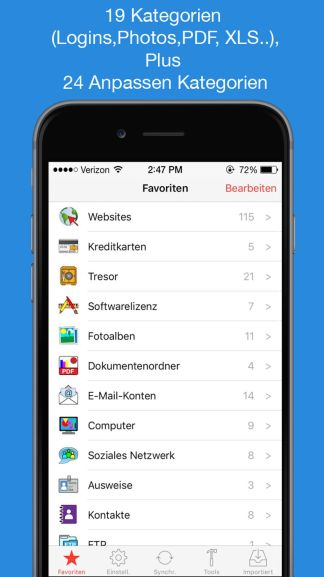 > TOP SECURITY
○ Using AES-256 Encryption to automatically encrypt all
your data as soon as it's stored in iPassSafe by a
Master Password that only you know
○ All data stored on your device only!
○ Self destruct option after 10 tries
○ Logout timer when inactive
○ Lock timer when using other App
○ Delete clipboard (optional)
○ Strong Built-In Password Generator to create unique
passwords
○ Stay anonymous, account creation is not needed
○ Touch ID support
> ALL YOUR DATA
• 24 x Custom categories you can design as you want
• 19 x Built-in categories including:
○ Logins (Web, Email, FTP...)
○ Credit Cards
○ Photos (from Gallery/Camera)
○ Bank accounts details
○ Safe/PIN numbers
○ Text notes
○ Documents (PDF, Word, Excel, PPT ...)
○ Contacts with Build-it call/send email option
○ ID cards
○ Passports
○ Driving License
○ Software License
> INTEGRATION WITH SAFARI APP
○ Fill Login directly in Safari App, by iPassSafe
○ New Logins pulled in from Safari App to iPassSafe
○ Support auto login with 3 (up to 4!) Parameters
○ Icons pulled in from any of your websites automatically !
> SYNC
○ 5 Sync options (iCloud, Dropbox, FTP, AirDrop & Email)
○ All data get encrypted before sync
○ Cloud is optional but not a requirement
> ADVANCED FEATURES
○ Air Print (Single/All Items)
○ Contact import from Address Book
○ Call & Send Email to private contact using App
○ Login to private Gmail/Yahoo account from App
○ Built-in browser with auto/manual login
○ Built-in search tool
○ Dynamic sorting option
○ Multiple Databases (per users or contents)
○ Private Expiry Reminder (Credit card, Driving License...)
○ Available in 17 languages