Leider ist dieser Deal mittlerweile abgelaufen
Dieser Deal ist leider abgelaufen. Hier sind ein paar andere Optionen für Dich:
Die App bekommt ihr derzeit kostenlos im AppStore als Download. Der Normalpreis liegt bei 9,99 €.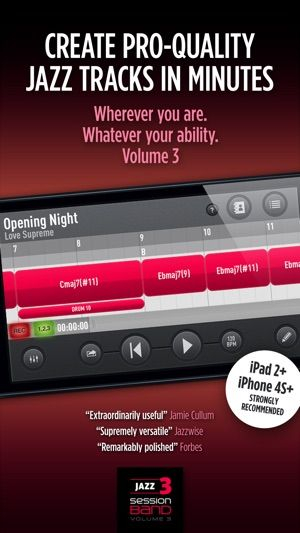 Create stunning jazz tracks to your own chords in minutes with SessionBand Jazz the world's only chord-based audio loop app. It's the ultimate jazz play along and the perfect tool for jazz songwriters – wherever you are and whatever your level of ability.

Volume 3 includes 15 totally new and diverse jazz styles from slow Jazz Ballad, ECM, Swing Funk and Med Latin through Love Supreme & Bembe to Fast Latin and Swing.

Swing Guide Tones and Swing Licks all the way to 7/4 and Fast Swing plus many more.
And with a host of pro features like automated mixing, auto-transpose, one-touch live recording, real-time tempo shift and Audiobus compatibility - allowing you to seamlessly export our unique content into other top music apps like GarageBand - it has never been easier or quicker to create your own studio quality jazz even if you can't play a note!

The world's only chord-based audio loop app is the fastest way to create real studio quality jazz:
* Simply pick a style
* Choose your chords
* Watch them turn into pro-audio jazz loops
* Stretch or shorten loops in seconds
* Build up your track in minutes
* Instantly hear your track across different jazz styles and tempos
* Auto - transpose your entire track (not electronic pitch shift!)
* Mix your track (manual or automated)
* Adjust track tempo (+/- 15%)
* Record direct to audio
* Copy straight to other music apps
* Share with the world!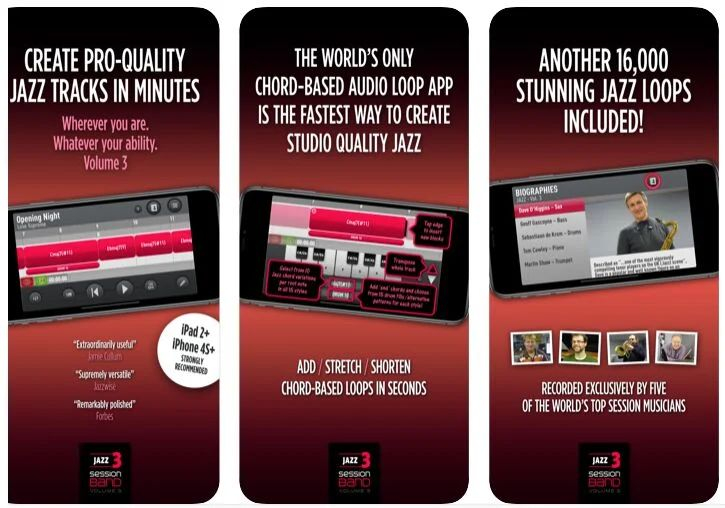 Over 16,000 precision-cut jazz loops included in the app:
* Over 16,000 individually recorded, chord-based jazz loops included
* 15 brand new jazz styles and tempos: Jazz Ballad; Swing Funk; Slow ECM; Slow 3 / 4; Love Supreme; Medium Latin; Swing Jazz Licks; Swing Guide Tones; Bembe; Fast ECM; Fast Latin; Safari; Trad Jazz; 7/4 Even 8ths and Fast Swing.
* From 80bpm through to 250bpm
* Each of the 15 jazz styles includes 10 chord variations for every root note!
* Maj7(9), maj7(#11), 7(13), 7(b9), 7(#5,#9), 7sus(13), m7(9), m7(b5), m(maj7). dim
* NEW. All 15 jazz styles include 15 drum fills/alternative drum patterns including notation!